RESEARCH PARTICIPANT RESOURCES
WHEN YOU ARRIVE
When you arrive at the hospital, please ask the information desk for directions to White 12 or follow signs to the unit.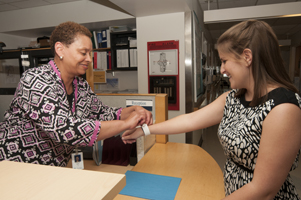 Once you arrive on the unit, please check in at the Reception Desk. The receptionist will direct you to the waiting area and notify your study physician and staff of your arrival.
 
 You will be asked to provide your name and photo ID with date of birth.  You will also be completing a nursing assessment form that includes allergies, medications and past medical history. If you have not already signed an informed consent form, study staff will meet with you to obtain informed consent.  Your visit will begin once you have provided written consent to participate in this study. 
PREPARING FOR YOUR VISIT:
Depending on your visit, there may be more or less preparation required. Your study coordinator should info you of any specific items to bring.
You should bring:
A photo ID

A list of medications/ supplements you take if you cannot remember off hand.
Below are some links for you to prepare for some of the common metabolism and nutrition procedures completed on the TCRC. Ask your study team if you are unsure what procedures you will be participating in at your visits:
More information on these items, and more, can be found under Metabolism and Nutrition Research  
BEFORE YOU LEAVE
Clarify your post-visit instructions. Your clinical investigator, study team, TCRC nurse or TCRC nutritionist may have specific instructions for you to follow that may include a special meal or study medication.
Please notify the Reception Desk that you have completed your visit.
PARKING
At the Massachusetts General Hospital, you may park in either of the two garages located in front of the hospital's main entrance off Cambridge St. Many studies will cover parking expenses.Check with the study team for details.
 
 For additional information, please contact the Parking Office at (617) 726-8886. See more parking information
PURPOSE OF THE TCRC
The Translational and Clinical Research Centers (TCRC) at the Massachusetts General Hospital is part of the Harvard Medical School Catalyst Program, one of 60 clinical translational research centers in the United States funded by the National Institutes of Health (NIH).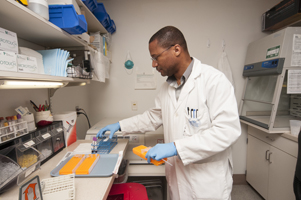 TCRC lab processing
The TCRC provides clinical research facilities and professional and support staff for investigators who conduct human research.  Studies conducted on the TCRC examine normal human function and the causes, prevention, control and cure of disease. These studies often translate scientific discoveries into new diagnostic procedures and therapeutic interventions to improve health care.  TCRC studies involve people of all ages, races, and ethnic backgrounds.
STAFF
The TCRC professional and support staff, including physician-investigators, nurse-practitioners, registered dietitians, registered nurses, clinical lab assistants and support staff, help the individual study investigators who conduct their research on the TCRC.
The TCRC nurses conduct study procedures, administer medications, collect laboratory specimens, provide health education, answer questions about research, and provide for the physical comfort and care of research volunteers while on the TCRC.
The TCRC nutrition staff assist clinical investigators by providing nutritional consultation services. Nutritionists are responsible for research meals and nutrition assessment and provide nutritional counseling for the study.  They also perform a variety of research tests such as measurements of bone density and body composition, as well as exercise tolerance testing.
The Study coordinators for the individual studies help oversee all elements of the research study, including enrolling volunteers, scheduling visits, answering questions, and communicating with all those involved to see that the study is carried out accurately and safely.

STUDY SITES
The TCRC is located on White 12 at the main campus of Massachusetts General Hospital, 55 Fruit St., Boston.
Your study team will notify you where your study will be completed.
FREQUENTLY ASKED QUESTIONS
Q. What are clinical research studies?
A. They are scientific studies that answer questions about normal human functions, diseases and medical care and treatment. The overall aim is to improve our understanding of health and disease and develop more successful means to prevent, diagnose and treat disease.
Q. What is my role in the conduct of the clinical research study?
A. Your role as a human volunteer is essential to the conduct of clinical research and to the advancement of medical care.  It is important to keep all of your scheduled research appointments. Please completely answer questions regarding how you feel and whether you have taken your medication as directed. The completion of study tasks provides essential information on the best way to prevent, diagnose and treat disease.
Q. What should I bring for my visit?
A. If your visit is more than a few hours or is an overnight stay, you should bring the following:
Please bring your photo ID with you for your visit.  Prior to your visit, please call Mass General Patient Registration at 866-211-6588, to confirm your registration information.  Please have the following information available:  Name, address, social security number, insurance information, emergency contact information.

A complete supply of all medications including prescription medications with pharmacy-labeled containers and appropriately labeled non-prescription medications that you are currently taking, and study medications

The hospital pharmacy will provide any medication that is part of the study

Hospitalization and Health Insurance Cards (even though you are here for a research study)

Clothing: The Hospital provides standard pajamas and gowns. Please bring any clothing that will make you comfortable. Many of our volunteers choose to wear their own clothes for at least part of every day

A copy of any Advance Directive (Living Will or Health Care Proxy) that you may have

Personal effects for your use during your stay. A television and DVD player are provided in each patient room at no charge.

You may bring your laptop computer and do work while you are here

Note that for many study visits, you will be asked to remove all jewelry. Please leave any valuables at home
Q. Do I have to fast before my visit?
A. Each research study has individual requirements. You may be required to fast prior to your visit. This means having nothing to eat, usually for 12 hours prior to your visit. You may drink water during this time. Please follow all instructions provided by the study team and clinical investigator.
Q. Will meals be served during my visit?
A. Some studies will require you to eat specially prepared meals. If your study requires that you follow a special meal plan, you will receive careful instruction from the nutrition staff.  If no special meal plan is required, standard meals are served to overnight (inpatient) volunteers. Daytime outpatient volunteers may receive a snack, depending on the study. Food is not provided for family members or other guests.
Q. May I have visitors?
A. Visitors are allowed at any time that will not interfere with the study process. Consult with your nurse, nutritionist or study coordinator if you plan to receive visitors.
Q. May I smoke during my visit?
A. Smoking is permitted in hospital-designated areas only and not on the TCRC.  Smoking is permitted in the designated areas if it does not interfere with the study process. Please ask study staff if smoking will conflict with the study.
Q. What if I have to cancel my appointment?
A. If you are unable to keep a scheduled appointment, please contact your study coordinator immediately.
Q. Will anyone know that I am participating in a study?
A. Many safeguards are in place to protect your identity and confidentiality. You will be informed before the study of who will have access to your information.
Q. Will my insurance company receive a bill?
A. All research charges are covered by the study. If you or your insurance company receive a bill, please call your study coordinator and forward the bill to:
Translational and Clinical Research Centers Administration
 125 Nashua Street, 8th Floor Suite 823
 Massachusetts General Hospital
 Boston, MA 02114
 Fax 617-724-3299
QUESTIONS?
If you have additional questions, please contact your study coordinator or clinical investigator.